Now that we are deep in the season of giving with all the festive holidays right on our heels, this is the perfect time to use
Splurge
as an extra pair of helping hands during this very busy time of year. With all of the different options of delivery, pickup or gifting, you truly have
Splurge
as an extra person on your team to help accomplish all of your holiday celebration goals. Just to give you a few suggestions of how we can be a big help, we've put together five favorite recipes that use
Splurge
products. Take a peek…
Jalapeno Hot Chocolate 
INSTRUCTIONS
Pour the milk into a saucepot. Split the vanilla bean down the middle to expose the seeds. Add the vanilla bean and cinnamon stick to the saucepot.
Cut the jalapenos in half. Smell them to determine how spicy they are. If the jalapenos are extra spicy, only add 4 pieces. If they smell mild, add all 6 halves.
Set the saucepot over medium heat. Once the milk starts to warm, add the chopped chocolate and sugar.
Stir until all the chocolate has melted into the milk and the mixture is very warm. Taste the hot chocolate for sweetness and heat. Add 1-2 more tablespoons of sugar if desired. Lower the heat and allow the hot chocolate to steep until the spice level is to your liking (usually 3–5 more minutes for me). Be careful not to boil.
Remove the vanilla bean, cinnamon stick, and jalapenos. Serve warm!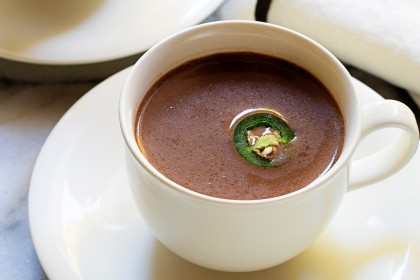 Chipotle Bloody Marys
INSTRUCTIONS
In the jar of a blender, blend chipotle peppers and ½ cup vegetable juice on high until you have a smooth puree. Take ¼ cup of puree mixture and transfer to a small bowl with the shrimp. Marinate for at least a few minutes.
Meanwhile in a large pitcher, combine remaining chipotle puree, remaining vegetable juice, horseradish, celery seeds, Worcestershire and vodka. Mix well and season to taste with kosher salt. Refrigerate until ready to serve.
In a heavy skillet or sauté pan, add olive oil over medium-high heat. Add shrimp, 6 at a time and cook until golden on the edges and opaque in the center, about 1 minutes on each side. Set aside while you cook remaining shrimp.
Fill glasses with ice and pour the bloody mary mixture over the ice. Garnish as desired and top with the shrimp. If desired, rub a lemon wedge around the rim of the glass and dip it in kosher salt.
Grilled mini sweet peppers with Camembert
INSTRUCTIONS
Heat grill to medium to medium-high heat. Make sure grates are scrubbed clean and then oiled. (To oil the grates, add some canola oil to a small bowl. Then fold a heavy paper towel a few times to make a smaller square. With a tongs, grasp the folded paper towel and dip it into the oil until the paper towel is drenched. Then run the paper towel over the grates, repeating until all grill grates are thoroughly oiled.)
Cut stems off peppers, then slice peppers in half lengthwise and remove inner ribs and seeds. Place halved peppers on large rimmed baking sheet and drizzle with olive oil, folding to coat evenly. Sprinkle with a bit of kosher salt and freshly ground black pepper. Fold and repeat.
Place peppers cut-side down on hot grill grates. Once the peppers are charred to your liking, flip to grill the other side of the peppers. Each side should only take a minute or two. When peppers are done, remove them to the rimmed baking pan, cut-side up – or to a platter for a nicer serving presentation. Using a small knife or spoon, remove a bit of cheese from the wheel and add it to the center of a grilled pepper half. Repeat until all  cheese is used.
Sprinkle peppers with fresh rosemary and thyme, plus a nice amount of Maldon smoked sea salt flakes. Some of the salt flakes can be rather large, so lightly crunch them between your finger tips as you sprinkle, if desired. I've found that our family likes to get plenty of pops of smoked salt in their bites, so I tend to sprinkle fairly generously. Serve warm.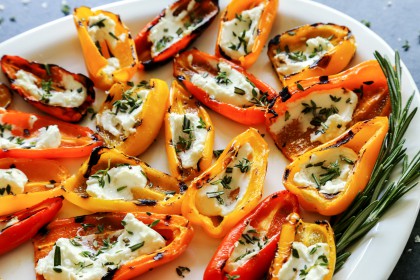 Caprese Salad
3 whole Ripe Tomatoes, Sliced Thick

12 ounces, weight Mozzarella Cheese, Sliced Thick

Fresh Basil Leaves

Vom Fass Basil Olive Oil, For Drizzling
Kosher Salt And Freshly Ground Black Pepper
In a small saucepan, bring balsamic vinegar to a boil over medium-low heat. Cook for 10 to 20 minutes, or until balsamic has reduced to a thicker glaze. Remove from heat and transfer to a bowl or cruet. Allow to cool.
When you're ready to serve, arrange tomato and mozzarella slices on a platter. Arrange basil leaves between the slices. Drizzle olive oil over the top of the salad, getting a little bit on each slice. Do the same with the balsamic reduction, making designs if you want. Store extra balsamic reduction in fridge for a later use.
End with a sprinkling of kosher salt and black pepper. Serve as a lunch, with crusty bread. Or serve alongside a beef main course for dinner.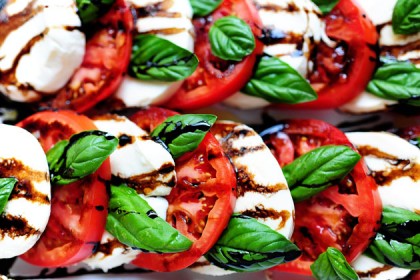 Chocolate Bourbon Caramel Cups
INSTRUCTIONS
You will also need 24 candy cup liners.
For the chocolate cups, melt the chocolate and coconut oil in a heat proof bowl in a microwave or over a double boiler, whisking until smooth. Spread the inside of small candy cup liners with a thin layer of chocolate (you should have chocolate left over). Place them on a sheet pan and into the freezer for 10–15 minutes while you make the caramel.
For the caramel, add bourbon and vanilla to the cream.
In a heavy sauce pan over medium-high heat, melt the sugar. Stir gently until sugar is mostly melted and then reduce heat to lowest setting and add coconut oil. Whisk in the cream mixture. If the sugar seizes up, then turn the heat to medium and stir consistently until sugar has melted back into the caramel and is smooth and thick. This can take 5–8 minutes so be patient!
Take the chocolate cups out of the freezer and put a little spoonful of the caramel into the frozen chocolate cups. When they are all filled, place back in the freezer for about 15 minutes.
At this point, you will have to re-melt the remaining chocolate. Spoon a small amount over the top of the caramel, just enough to cover the caramel and seal up the cup. Immediately sprinkle with a small amount of the pistachios and salt. Let sit at room temperature to set up.
Store in an airtight container or in the freezer.
Note: You can use heavy whipping cream instead of coconut cream, and regular dark chocolate in place of vegan chocolate.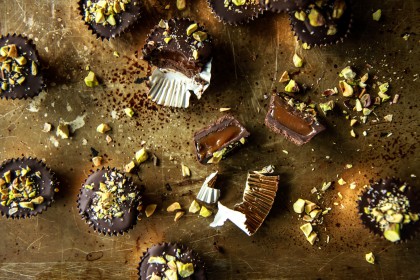 As you can see,
Splurge
can give you more of what we all need, time. Let us take some of the busy out of your holiday season. Love it. Scan it. Buy it.